Roku devices are a great choice for the "brain" of your home theater setup. But common question among Roku users is whether their remotes are universal or not. Understanding the compatibility of Roku remotes can help you streamline your entertainment setup and control multiple devices with ease, but Roku doesn't make it very easy!
While the Roku Voice remote has the most comprehensive control of the most Roku devices, none of the Roku remotes (Simple, Enhanced, or Voice) are universal within the Roku ecosystem…or in the classic sense. We recommend a simple 6 (or more) device Universal remote for your home theater.
As you can see, the answer to this question isn't quite as straightforward as we'd hope. Below we'll start by covering the overall picture of Roku/Remote compatibility before offering some tips on telling your Roku remote's apart and why we think you should spring for a real universal remote for your setup.
Why Roku Remotes Aren't Universal
Although it makes rational since that all Roku remotes would work with pretty much any Roku device, that's simply not the case.
Roku remotes can be broadly classified into two types: Simple remotes and Enhanced or Voice remotes. They differ in the kind of technology they employ to communicate with the device. Simple remotes use infrared (IR) technology, which requires a direct line of sight to function. Enhanced remotes use radio frequency (RF) technology, which does not need a line of sight. What's more, the Voice remote has both options built in.
Therefore, the compatibility between the Roku device and the remote is determined by the technology the remote uses, and so the next question is: which devices work with which remotes? Well, that's a bit more of a conundrum, because some of the Roku devices like streaming sticks (that live behind the TV without line of sight) will use RF.
The set-top box models like the Roku Ultra and the Roku Express (both variants) come with remotes that use both IR and RF – IR for controlling the TV (volume, etc.), and RF for controlling the Roku, so they won't work with the Simple Roku remote. That makes sense – they come with the enhanced or voice remotes by default.
Some remotes come with advanced features, but this doesn't change the fact that these remotes and devices are only compatible if they use the same underlying technology.
A Roku remote's compatibility generally depends on whether it uses IR or RF technology and if the Roku device it's intended to control employs the same tech, and if this is feeling about as clear as mud, don't worry – we're going to sort this info out in the section below for quick reference now that you have an understanding of how complex this particular tech landscape is.
Which Roku Remote Are You Dealing With? (Enhanced, Simple, Voice)
We'll start by summarizing the 3 remote variants and how you can tell them apart:
Roku Simple Remote (on Roku's site): Can be identified by its thicker profile and the need for line of sight. It uses infrared technology and works with most Roku players except for some models. It is compatible with Streambar, Smart Soundbar, and Streambar Pro (but so are the other remotes).


Roku Enhanced Remote: Can be identified by its thinner profile and the lack of need for line of sight. It uses radio frequency technology and is compatible with most Roku players and all Roku TV models and audio products, except for some older models. It has a pairing button located under the battery cover. This is one of the models that is designed to use RF for your Roku and IR for your TV's volume.


Roku Voice Remote (on Amazon): Can be identified by its advanced features like voice control and built-in speakers. It works with all Roku TVs, audio devices, and players made after 2017. It has audio search capability, private listening via headphone jack, and built-in speakers to help locate the remote when it's lost. More info (on Roku's site).

And note we only included an Amazon link to one of these – Roku would really prefer you upgrade to the Voice remote, as it has both IR and RF. That said, because of the discussion in the seciton above around Roku TVs, there are some details to consider.
They still sell the Roku Simple Remote on their site, but the enhanced remote has been phased out in favor of the Voice remote, so if you replace your Roku remote just get the Voice one.
The Roku Voice Remote works with most Roku TV's and Roku streaming players, bot not older models. So, we wouldn't call it universal, especially because it can't control any other components of your home theater setup.
How To Pair a Roku Remote To Your Roku Device
If you've replaced your remote or need to pair one with your Roku for any reason, here are the steps to get it done: First, determine which type of Roku remote you have using the section above.
If you reset your remote or it's brand new, the pairing may happen auto-magically. When the pairing process begins, you may notice your remote's LED light starting to flash. This indicates that your remote is searching for your Roku device. Ensure that there are no obstructions between your remote and the device during this process. It may take several seconds for the remote and device to successfully pair.
If that didn't happen for you, then make sure your Roku device is powered on and connected to your television. Press the "Home" button on your remote to bring up the main screen. Navigate to "Settings," then "Remotes & devices," and finally, "Set up a new device" followed by "Remote."
Eagle-eyed (or perhaps just conscious) readers will notice that, if your remote isn't paired yet, it will be hard to follow the instructions in the section above! If you don't have another remote to use to navigate your Roku device, don't worry – you can download the Roku app on an iOS or Android device and, so long as the devices are on the same WiFi network, you can control the device from your phone to navigate to the steps above.
Once the connection has been established, your remote's LED light should stop flashing. Your Roku device will now display a message on your screen confirming that the remote has been paired successfully.
We Recommend Upgrading to a Truly Universal Remote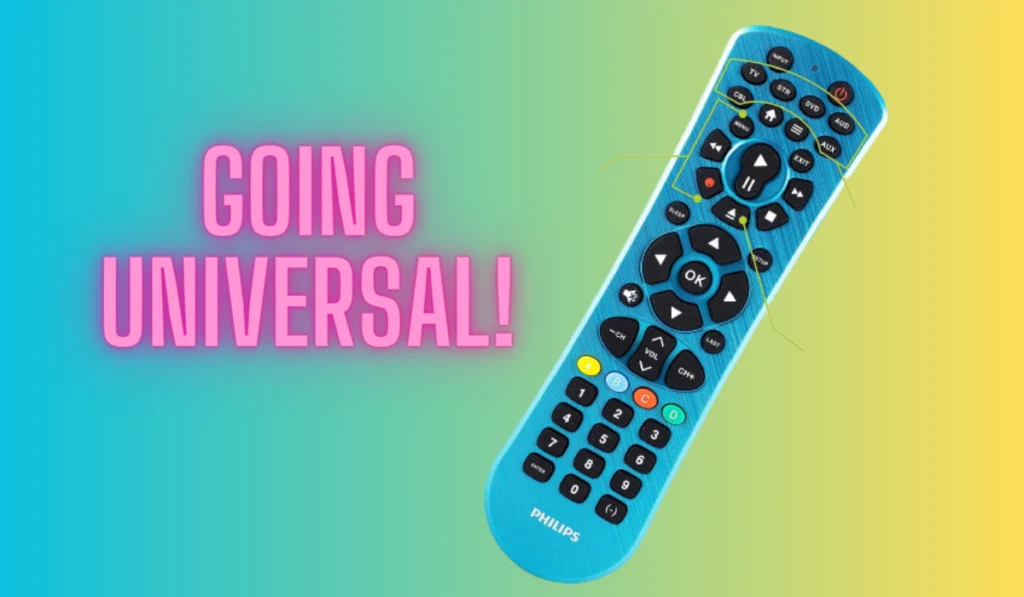 If you're reading this article, you probably want a universal remote that works seamlessly with your Roku device and other home theater components.
Pro-Tip: Upgrading to a truly universal remote can help streamline your use of all your devices and minimize remote clutter in your entertainment setup.
One remote we recommend is the Philips 6-Device Universal Remote (on Amazon). This remote offers compatibility with multiple devices, including Roku, streaming boxes, and smart TVs. Upgrading to this universal remote can significantly improve your home theater experience.
Please note that this remote will need to be mapped to the non-matched Roku systems you're trying to use it to manage. This means you'll need to set up different pairing codes for your Roku TV and individual Roku devices in some cases (but most users won't run into this…why connect a Roku Device to your Roku TV?!) However, this is still a better option than having multiple Roku remotes!
In some cases, using a universal remote with your Roku (our full guide) may require a bit of extra setup and configuration. But once you've matched your devices, you'll enjoy the convenience of controlling your entire home theater system from one remote. Trust us, it's worth the effort.
Solving the Universal Roku Remote Conundrum
In summary, while Roku devices come with their own remotes, it is possible to use a real universal remote to control your Roku and enhance your home theater experience. If you want to stick with Roku, use the Roku Voice Remote, which should work for nearly everything.